MARKHAM, ON – June 23, 2023 – Pickleball Canada, the National Sport Organization for pickleball, and Canada's fastest growing sport, is pleased to announce a multiyear partnership today with Exzell Pharma Inc. Exzell Pharma Inc., brand house of Myoflex® , becomes the official and exclusive topical pain relief of the organization. This partnership is set to kickoff today at Pickleball Canada's Atlantic Regional Championship taking place from June 23-25 in Bedford, Nova Scotia, and marks the first sports partnership for Myoflex®.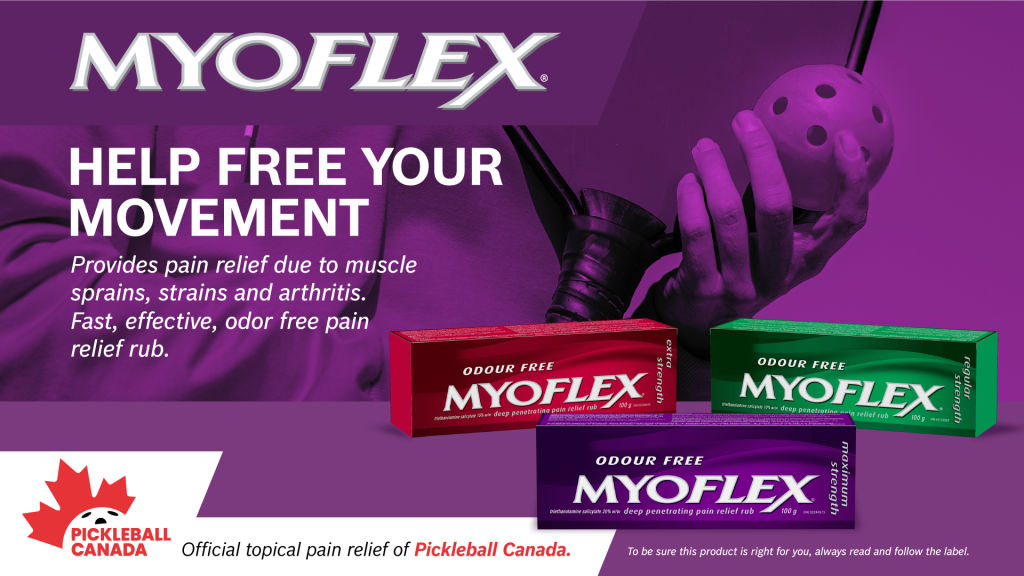 "Pickleball Canada is thrilled to be launching a new long-term partnership with Myoflex® today," said Peter Milovanovic, President of Pickleball Canada. "Pickleball players love to play very frequently, so it is great to partner with a company that can help players keep moving and to feel healthy on and off the courts."
Pickleball Canada's latest addition of Myoflex® as a partner, highlights an impressive and growing list of partners for the National Sport Organization in five months of bringing on board the experts at sponsorship agency partner Sponsorship Canada, who facilitated this partnership.
Given pickleball players at Pickleball Canada's Regional and National Championships are from a broad spectrum of ages which may range from 16-75 years, the suite of Myoflex® products will help ease the pain caused by the joint soreness associated with the frequency of games played by those that love the game.  The odour free, topical pain relief from Myoflex® is available in three presentations: regular, maximum and extra strength.
"Myoflex® is excited to be partnering with Pickleball Canada to help continue the growth of this fantastic game at the grassroots level", said Peter Weiler, President of Exzell Pharma Inc.  "Myoflex® has been used by active people of all ages and abilities for muscle aches, strains and pains for over 40 years.  We are proud to support such a great group of athletes playing a fun, competitive, inclusive and growing sport like pickleball."
Players and attendees onsite will be provided with Myoflex® coupons for product discounts post-Championship. Additionally, the engagement between both parties will also feature onsite branding, social and digital media programming, and other exciting facets to be announced nearer to Pickleball Canada's National Championship taking place from August 23-27.
For more information about Pickleball Canada, please visit pickleballcanada.org. Pickleball players and anyone interested in learning more about pain relief products from Myoflex® can visit myoflex.ca.
About Pickleball Canada
Pickleball Canada is the national governing body for the sport of pickleball in Canada. The Canadian Pickleball Association was established in 2009 and then incorporated as Pickleball Canada in 2011. The organization works to promote and develop the sport at all levels, from grassroots to high-performance. Their mission is to promote the growth and development of pickleball across the country by providing leadership, resources, and opportunities for players of all ages and skill levels. Pickleball Canada is responsible for the coordination and delivery of pickleball events across the country, including the National and Regional Championships, which brings together top players from across Canada to compete for the title of national champion. With a growing number of players and clubs across the country, pickleball is Canada's fastest growing sport and Pickleball Canada is at the forefront of this exciting movement. For more information, please contact info@pickleballcanada.org or visit pickleballcanada.org
About Exzell Pharma Inc
Exzell Pharma is a niche pharmaceutical company that sells both pharmaceutical and natural health products into the Canadian marketplace. We are committed to improving the overall 'quality-of-life' of our customers. Our three long-standing brands – Swiss Natural®, Ozonol®, and Myoflex® have been sold in Canada for over 50 years, and we continue to introduce exciting new products – like EsopH®, our innovative treatment for acid reflux. Exzell Pharma continues to grow their Salinex® and PediaVitTM brands.
After being incorporated into Biolab Pharma late last year, we are excited and driven to become a leading source of safe, effective, and affordable health products in Canada. Biolab expanded to Canada in 2017 with a research and development facility in Mississauga, Ontario. The company is now progressing toward the global market with the purchase of Exzell Pharma. The acquisition presents a major growth opportunity for both the Brazilian and Canadian markets through product portfolio expansion. The purchase of Exzell also provides a significant opportunity for growth by establishing an international export platform to other countries from Canada.
For more information on this partnership, please contact:
Dane Gomez
dane@sponsorshipcanada.com
C: 647-784-4112