So, you've heard of pickleball or maybe seen people playing in your neighbourhood and think you might want to play, but where to start? We've got you covered.
First of all, welcome to the sport of pickleball! This sport is inclusive, fun, and easy to learn but challenging to master. It has something to offer for every skill level and ability and is unique from other paddle or racquet sports.
Where do I start?
Pickleball is a great sport and even better when you feel confident on the court. We recommend that you begin your pickleball journey with a lesson (or a few) to learn the basics.
Consider taking lessons to:
Learn or advance your knowledge of pickleball rules
Get comfortable with the size and layout of the court, as well as how to move around the court
Learn about the equipment and what to buy
Reduce the risk of injury by learning proper technique
Get help determining your skill level
Meet people of similar skill levels
Feel comfortable signing up for other programs or clinics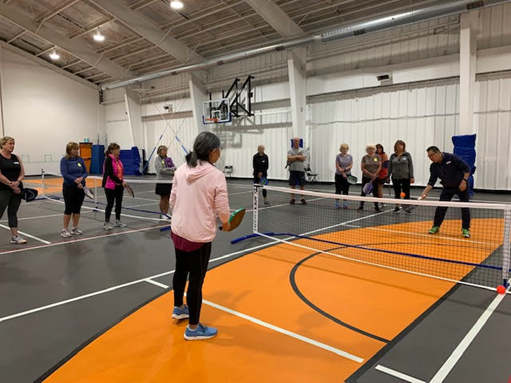 Clubs can be a great resource for lessons, and many will run regular clinics for various skill levels. Reach out to local clubs to ask what they offer or if they know of any coaches in the area. Many certified coaches or instructors offer coaching outside of a club environment.
Where can I learn the rules?
Start by reviewing the Basic Rules outlined on the Pickleball Canada website. This will introduce you to the key rules you need to know before you step onto the court for the first time.
More of a visual learner? Here are a few YouTube videos that introduce some key rules:
Equipment
All you really need to jump into a game of pickleball is a paddle, a pickleball, and a pair of running shoes! We also strongly encourage that you always wear eye protection.
As pickleball rises in popularity, more manufacturers are developing paddles and balls, so there are a wide range of options on the market. More big-box stores and online retailers are carrying pickleball paddles, which may be a good place to start for your first paddle.
Some clubs and even some brands offer equipment demos that let you try out a paddle or two before you make a purchase.
Finding a Club
Local clubs are a great source for regularly scheduled programming.
We recommend you start your search for a club near you with our Find a Club tool, which will allow you to search for Pickleball Canada affiliated clubs by province. See what might be near you, check out their websites, and maybe send an email to inquire about the programs they offer. Let them know what type of play you're looking for.
There may be other clubs or groups near you that are not affiliated with Pickleball Canada, and a web search of "pickleball near me" may help you find some. Some community groups have Facebook or Whatsapp groups, email chains, etc., that organize games at public facilities. Don't be afraid to head out to your neighbourhood courts and chat with fellow pickleball players! They may have great insight about pickleball in your community to share with you.
How can I practice on my own?
There are many resources online that share drills or practice routines that you can do on your own, both on and off the court. YouTube has a variety of videos that could get you started with just a ball and a paddle.