TORONTO / OTTAWA —May 3, 2023—Skechers, The Comfort Technology Company™, and Pickleball Canada today announce a partnership that names the brand as the Official Footwear Sponsor of the 2023 Pickleball Canada National Championship. The agreement begins with the current season and will further establish Skechers' prominent position in the fast-growing sport.
We launched Skechers Viper Court footwear to a positive reaction from the pickleball community, athletes and fans," said Michael Greenberg, president of Skechers. "Skechers currently sponsors every major elite professional pickleball tour in the United States and our athletes are winning on the court, so it's the perfect time to expand our reach to the biggest circuit in Canada so that we can connect with more consumers across North America and around the world as they discover and fall in love with this incredible sport."
Skechers kicked off 2022 by signing its first two elite pickleball athletes, Tyson McGuffin and Canadian Catherine Parenteau, who compete wearing Skechers pickleball footwear and Skechers-branded apparel. After introducing its pickleball collection at the US Open Pickleball Championships in Naples, Florida last year, Skechers began to dominate the sport by sponsoring major tours including USA Pickleball, Major League Pickleball, the Association of Pickleball Professionals (APP) Tour, and the Carvana Professional Pickleball Association (PPA) Tour. Now, Skechers adds the 2023 Pickleball Canada National Championship to its sponsorship roster of existing major championships and tournaments across North America.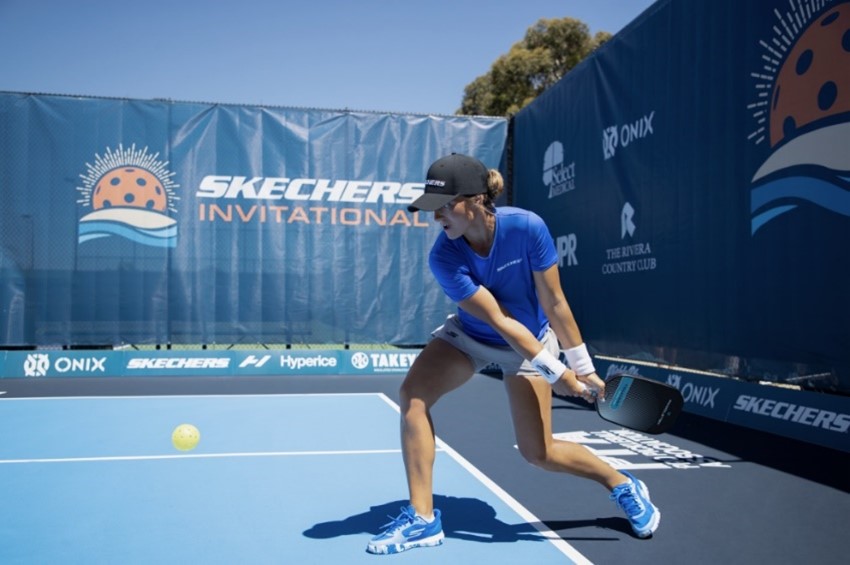 "I'm so proud to represent a brand that's now part of growing the sport I love in my home country," said Catherine Parenteau. "Pickleball matters, and we're working together to help promote this movement in Canada."
"The Pickleball Canada National Championship is our marquee annual event, so we are very happy to have a major brand like Skechers join us for this great event hosted by the Regina Pickleball Club," said Peter Milovanovic, president of Pickleball Canada. "The number of pickleball players in Canada has increased significantly over the past few years and it is expected to continue to grow at a rapid rate as more Canadians are introduced to pickleball."
This year's National Championship will be held August 23-27, 2023 in Regina, Saskatchewan, and is hosted by Pickleball Regina. Over 1,000 players across Canada are expected to compete in different categories, with athletes ranging in age from 16 to 75.
Skechers pickleball footwear brings signature Skechers comfort and innovation to the court. The Skechers Viper Court provides responsive performance in a breathable, lightweight design. The enhanced grip and stability of the Goodyear® rubber outsole paired with a shock-absorbing Arch Fit® insole deliver comfort and support, match after match. The recently launched Skechers Viper Court Pro is a lighter and faster high-performance pickleball shoe designed and suitable for everyday players looking for stability and a secure platform in their game.
Styles in the Skechers pickleball footwear collection are available at Skechers retail stores and sketchers.ca as well as key retail partners and specialty shops.
About Skechers USA Canada, Inc. and Skechers U.S.A., Inc.
Skechers USA Canada, Inc. is a subsidiary of Skechers U.S.A., Inc. (NYSE:SKX), The Comfort Technology Company™ based in Southern California. Skechers designs, develops and markets a diverse range of lifestyle and performance footwear, apparel and accessories for men, women and children. The Company's collections are available in over 180 countries and territories through department and specialty stores, and direct to consumers through digital stores and over 4,500 Company- and third-party-owned physical retail stores. The Company manages its international business through a network of wholly-owned subsidiaries, joint venture partners, and distributors. For more information, please visit about.skechers.com and follow us on Facebook, Instagram, Twitter, and TikTok.
About Pickleball Canada
Pickleball Canada is the national governing body for the sport of pickleball in Canada. The Canadian Pickleball Association was established in 2009 and then incorporated as Pickleball Canada in 2011. The organization works to promote and develop the sport at all levels, from grassroots to high-performance. Their mission is to promote the growth and development of pickleball across the country by providing leadership, resources, and opportunities for players of all ages and skill levels. Pickleball Canada is responsible for the coordination and delivery of pickleball events across the country, including the National and Regional Championships, which brings together top players from across Canada to compete for the title of national champion. With a growing number of players and clubs across the country, pickleball is Canada's fastest growing sport and Pickleball Canada is at the forefront of this exciting movement. For more information, please contact please contact info@pickleballcanada.org or visit pickleballcanada.org/
About Goodyear
Goodyear is one of the world's largest tire companies. It employs about 72,000 people and manufactures its products in 57 facilities in 23 countries around the world. Its two Innovation Centers in Akron, Ohio, and Colmar-Berg, Luxembourg, strive to develop state-of-the-art products and services that set the technology and performance standard for the industry. For more information about Goodyear and its products, go to http://www.goodyear.com/corporate.
For more information on this partnership, please contact:
Dane Gomez
dane@sponsorshipcanada.com
C: 647-784-4112